Wachaspati P. - SAT Math . ACT Math . Algebra (All) . Geometry . Trig . Pre-Calculus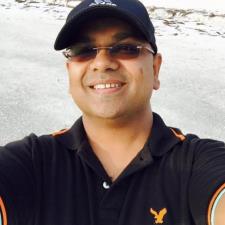 $65 / hr
Riverview, FL
40 miles Travel Radius

In-person + Online
Hello, my name is Wachaspati P., and by profession, I am an IT (Software) manager with 18 years of work experience. I completed my Bachelor?s degree in Electrical Engineering in 1996, and have enjoyed math ever since I was a little boy. Throughout my elementary, middle, high school and college - I have performed very well on every math tests, scoring more than 96%, and have enjoyed sharing my knowledge with my colleagues and friends. However, with a full time IT job, I could never really purs...
Reviews
Wachaspati P is very patient. Very encouraging. Able to adapt to students learning style and assess their learning need/handicap. He is thorough in his teachings. He does this as a part time fulfillment out of his passion for math and his compassion for people. After each session, you will truly feel like you've accomplished something each and every time. Thanks Mr P!
- Victoria S. from Riverview, FL
Mr Wachaspati is very patient and thorough. He wants to ensure his students understand before moving forward. My daughters grades and confidence have improved in the short time he has been helping her.
- Alisa J. from Lithia, FL
Mr. Wachaspati P. is a great tutor who has helped me increased my understanding of geometry and always encourages me to think in higher levels. He is always prepared for the tutoring session and he knows my academic needs and concerns. I am very happy I found Mr. Wachaspati. It has been a very positive experience for me. I recommend him to everybody.
- Julia B. from Riverview, FL
Mr. P has not only introduced helpful tips to my daughter for the SAT but also a love for math. These tips and guidance have helped her manage time efficiently.
- Manisha P. from Bradenton, FL
His introduction conversation was very professional and geared to my daughter's needs. He told me that learning is a journey which is so true. It is a journey to my daughter's future. I was very impressed with his preparation for the session and the detail he took to learn about our goals but he also listened to my daughter which made her feel like she was involved in her own journey to improve her knowledge in Algebra. We only had one session so far but I can see this as a new beginning for my daughter. It was a blessing for us to find him. He is a wonderful person and tutor.
- Evelyn B. from Lithia, FL
Best math tutor we've ever had. Exceedingly organized. Extensive knowledge in math subjects. Has made learning for my son fun again. Great temperament and patience.
- Yanira and Jose D. from Valrico, FL
My son Jacob was struggling with math concepts. We met for our first lesson with Mr. Wachaspati and at the end of the lesson, Jacob couldn't believe how easy these math concepts were explained to him. He continues to see Mr. Wachaspati to sharpened math skills for the upcoming ACT test. Great Tutor!!! Thanks Mr. Wachaspati!!!
- Annette R. from Lithia, FL
He always comes prepared. We communicate well prior to the lesson so he will know what I need. So far we have worked well together.
- Nancy T. from Youngstown, OH
Mr. P. has been very helpful with my daughter's success. She had the last 2 chapters in PreCal that really had her stumped. Mr. P. took the time to map out a plan to help her understand and cover the work necessary to complete the semester on time. The results are in, and she has an A on top of that. If you are in need of a tutor, you will get your money's worth, without a doubt, with Mr. P.
- Marsha R. from Valrico, FL
Review for Wachaspati: Very knowledgeable, enthusiastic, organized, compassionate, prompt, thorough, polite, answers all questions, truthful, honest, available. Would recommend him to a friend.
- Todd G. from Ruskin, FL
Mr. P is always prepared for the lessons with my daughter. Since beginning the tutoring sessions, she had more confidence and has improved her grades. He is very patient and flexible. We are very pleased.
- Toni B. from Riverview, FL
Wachaspati's tutoring has been EXCEPTIONAL! He has been working with my daughter for several weeks helping her prepare for the Math portion of the SAT. He is very thorough, organized and sets high (realistic) expectations for achieving success. He is genuinely concerned with HELPING your child and goes above & beyond what you would expect from a tutor. My daughter has so much more confidence in taking the SAT and in her Math class. She currently has the highest score in the class which has never happened. HIGHLY RECOMMEND Wachaspati!!
- Bridgette P. from Ruskin, FL
Loves to help students and it shows in every lesson! Wachaspati shows you not just how to do the math but how to think about the math!
- Mark R. from Lithia, FL
Search More Tutors in the UC Riverside Area